Meet Dr. Timonia Buchanan, D.C.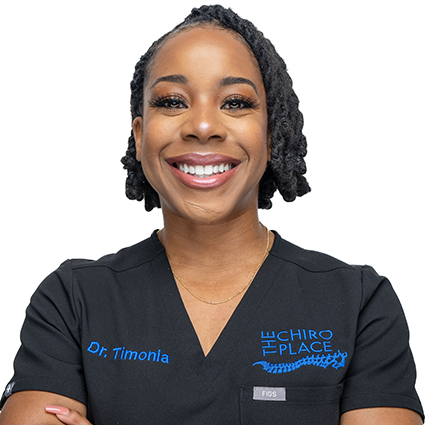 Florida native Dr. Timonia developed a passion for health and wellness from a young age. After completing high school, she pursued her Bachelor's degree at Florida A&M University, where she majored in molecular cell biology, and also cheered. Driven by her thirst for knowledge, she continued her education and obtained her master's degree in the same field.
Dr. Timonia then attended Life University to pursue her Doctor of Chiropractic. During this time, she not only excelled academically but also showcased her athletic ability as a cheerleader for the Atlanta Hawks.
Choosing the Chiropractic Path
Dr. Timonia's first job as a chiropractor was in Houston, Texas. Eager to expand her horizons and further refine her skills, she later moved to Memphis, Tennessee. Dr. Timonia has known Dr. Granger-Turner since Life University and interned at The Chiro Place while in chiropractic college. As it was Dr. Timonia's initial plan to move to the Memphis area and work under Dr. Turner, she's delighted to now be part of the practice team.
Making a Difference, One Patient at a Time
For Dr. Timonia the most rewarding aspect of being a chiropractor is seeing the change in patients' behavior and attitudes. She notes that when people are in pain, they're not as happy or they're more closed off. "When they start feeling better, they open up, light up a lot more, and have a little more pep in their step." Helping people and seeing them improve are exciting for her.
Embracing Creativity and Wellness
Outside the practice, Dr. Timonia indulges her creative side through art. Whether it's painting, drawing with pencils or experimenting with plaster for unique art pieces, she enjoys visual expression. Additionally, she got back into roller skating, enjoying the freedom and physical activity it provides.
A Legacy of Academic Excellence
As the first doctor in her family and coming from immigrant parents hailing from the small island of St. Kitts, Dr. Timonia is a trailblazer. She seeks to inspire her loved ones by setting an example of academic excellence.
Book an Appointment
Contact us today to schedule an appointment with Dr. Timonia!
CONTACT US »

Dr. Timonia Buchanan, D.C. | (901) 221-7173