Meet Dr. Jessica Allen, D.C.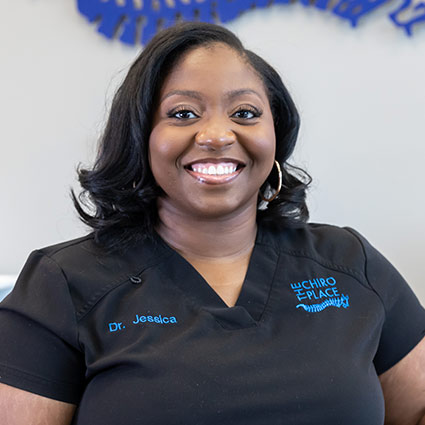 Dr. Jessica's first exposure to chiropractic care was when she accompanied her sister to her first chiropractic appointment in Birmingham, where she's from. "I remember saying, 'I don't think chiropractic works, but I'll just go along with you anyway.'"
When Dr. Jessica went, the doctor reviewed her sister's X-rays and talked about chiropractic and how it works. "For me, that was when the lightbulb went off. I've always been a person who hasn't liked to take medicine; I'd rather let my body do what it's going to do to heal itself."
Education & Experience
Dr. Jessica earned her bachelor's from Auburn University, and then her Doctor of Chiropractic from Life University in 2016. After graduating from Life, Dr. Jessica worked for her sister's chiropractor. "The person who explained chiropractic was the one I got to work for!"
As a longtime athlete, Dr. Jessica thought she'd become a sports chiropractor, but the practice where she worked focused primarily on prenatal and pediatric care. Her time at the practice opened her eyes to caring for pregnant patients and kids. Dr. Jessica decided to become Webster certified through the ICPA and took different classes to specialize in pediatrics.
Providing Compassionate Care
Known for her southern charm, Dr. Jessica is kind and genuine; she loves her patients and they are like family to her. "I have a lot of compassion for the issues they have going on, and I care about them far past when they're in the office."
Outside the Practice
When she's not at The Chiro Place, Dr. Jessica loves spending time in nature and taking care of various plants. She also enjoys reading or listening to Audible audiobooks, with her favorite genres being fantasy and young adult fiction. Dr. Jessica also likes to cook when she can, usually elaborate dishes featuring many ingredients!
Book an Appointment
Take that first step toward optimizing your health and life. Contact our Midtown location today to schedule an appointment!

Dr. Jessica Allen, D.C. | (901) 221-7173