Chiropractor in Collierville
Natural Family Health Care That Works
Dr. Earnicia Washington, D.C., is proud to follow in the footsteps of Dr. Dena Granger-Turner, the founder of The Chiro Place. Bringing quality chiropractic care to the African-American community in a Black-Owned clinic is empowering for her and
our patients
. It doesn't feel like work when we're here, but we take your health concerns seriously.
At
The Chiro Place
, we provide reliable chiropractic care to patients with any kind of pain or chronic condition. We offer a full range of chiropractic techniques and services to meet any patient's needs.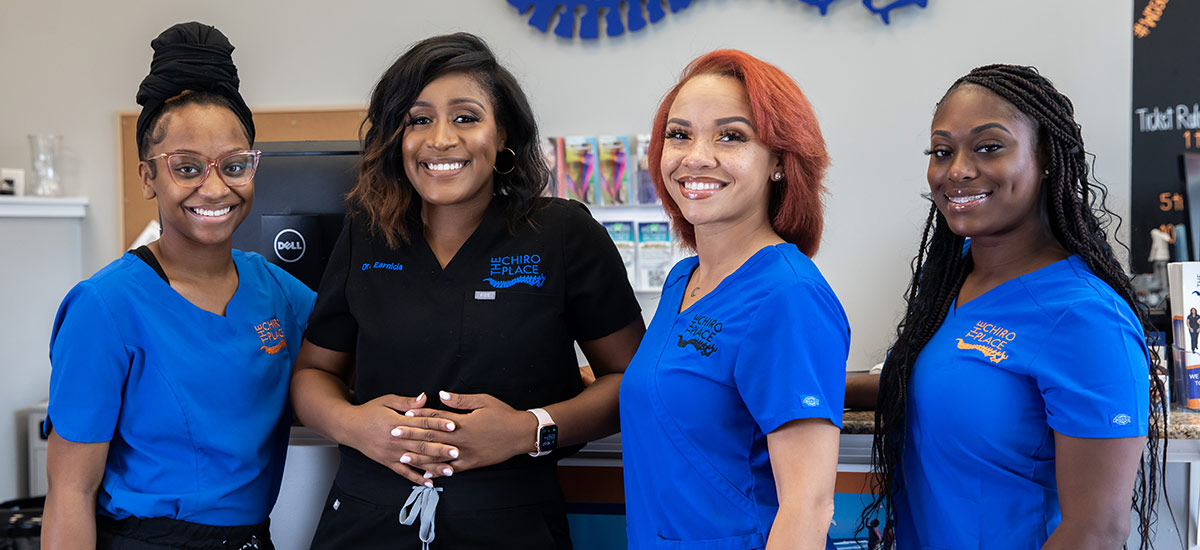 Making History with Black Female-Owned Chiropractic Care
Dr. Dena Granger-Turner, D.C., opened the first clinic at the Collierville location in 2016. This is where The Chiro Place first made waves, as most chiropractors were men. Then the word got out about the women chiropractors at The Chiro Place, and our skill with adjustments and improving people's health. We had so much patient interest, the Collierville clinic was able to launch three other clinics, bringing chiropractic care into more communities. Even if you usually receive care at another location, you're welcome to schedule appointments at the Collierville clinic anytime. The Chiro Place is one great practice with four locations, so you can switch between them as needed. All of our chiropractors share the same philosophy and methods, so you can count on getting the same great care at any one of our offices.
Not Your Average Office
Collierville was the very first location, so Dr. E calls it the mothership. We have what we call Wow! Service; it's such a good vibe. When you walk in, it's high energy. No matter if it's horrible outside, you'll be greeted with smiling faces, friendly voices, and high energy current music. We like to play pop music or R&B music; something that makes you feel good, makes you want to move and groove. We have open adjusting areas, but there are half walls for some privacy. Different types of active therapies take place on the other side of the wall.
Connect with Us Today
No matter how intense your pain is or how long you've had it, hope is right around the corner. Schedule an appointment today.
CONTACT US »

Chiropractor Collierville TN | (901) 221-7173