Meet Dr. Earnicia Washington, D.C.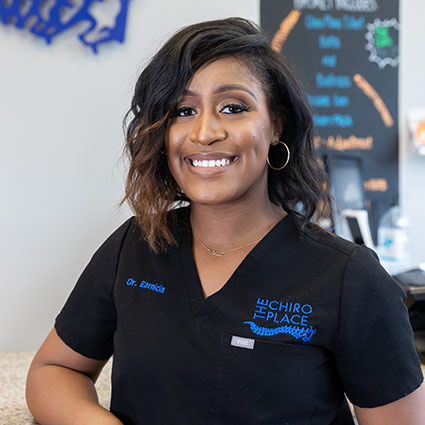 For Dr. E, chiropractic kind of fell into her lap. While playing basketball in undergrad, one of the games was against her future chiropractic school, Life University. An old classmate was at the game, who was currently a student at Life. After he spent some time talking with Dr. E's father on the sidelines, her father applied to Life University on her behalf.
She was accepted, but since she was initially interested in physical therapy, she needed to learn more about chiropractic. Dr. E visited some chiropractors and was amazed to see that chiropractic was like a more active type of physical therapy. And then she went to school, and fell in love with it.
EXPLORE CHIROPRACTIC »

Not an Easy Journey
School was really tough for Dr. E, with four surgeries in her first year. Always an eager learner, when she started inpatient clinical rotations, and was actually able to put her hands on people, it felt like this was meant to be. That's when she realized chiropractic was definitely for her.
Dr. E earned her Doctor of Chiropractic from
Life University
in December 2020. An athlete herself, she loves working with other athletes, and children and their families too!
Affiliations and Future Endeavors
Dr. E is affiliated with ABCA, starting from her time as student at Life. A predominantly Black club, ABCA was established to address the lack of black representation in chiropractic. She's trying to develop a scholarship for her undergraduate school, and also exploring teaching online.
When asked why she wanted to practice chiropractic, Dr. E points to the inequality she sees in healthcare for those who don't have insurance. She also wants to educate black people and other ethnicities about the benefits and affordability of chiropractic care.
The lack of knowledge concerning chiropractic appears to be generational. Dr. E shows her patients the benefits of care, and exposes them to all chiropractic can do. You can get good quality care for a lower price at The Chiro Place is part of her message.
Outside the Practice
Dr. E enjoys going for runs at Shelby Farm on the weekends. During the week, she's in the gym lifting weights with her trainer, blowing off some steam. A homebody, Dr. E loves spending time with her dog and watching her favorite TV shows.

Dr. Earnicia Washington, D.C. | (901) 221-7173