Chiropractor in Bartlett
Dr. Lynsey Rector, D.C., is the clinic director in Bartlett and says she learns something new every day, which is amazing. She's constantly reminded why she does what she does. Along with her three awesome assistants,
The Chiro Place
provides quality health care to the community.
When you come into our practice, you'll get a warm welcome. Relax, get comfortable, listen to some R&B, mingle with your fellow patients and enjoy your time in our space.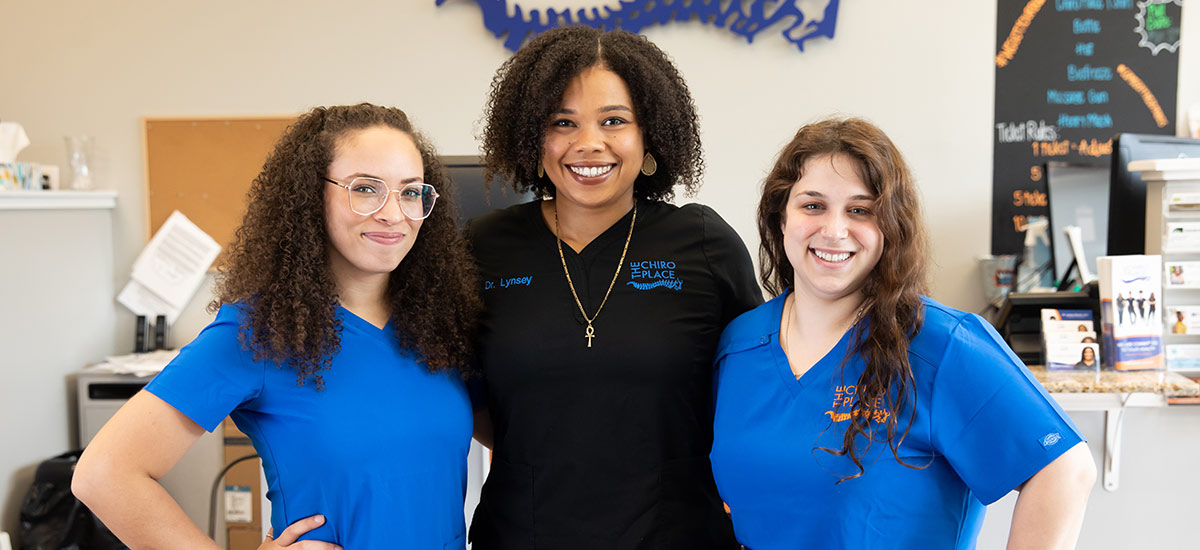 Personalizing Your Care
Primarily a diversified practitioner, Dr. Lynsey uses "a little bit of everything" in her care plans to address your unique needs. She does extremity adjusting, Grafton soft tissue work, active and passive rehabilitation techniques, and more. What works for one person might not work for another, so she's diligent about having alternatives.
With digital X-rays on premises, traction tables, vibration plates, electric stimulation, and more, we provide the services our patients need in one location. Dr. Lynsey also does cupping therapy as needed.
Benefits For Every Age
Dr. Lynsey sees a wide range of patients in her clinic. Her youngest patient is two weeks old, and she has one patient who's 89. With such a diverse patient base, it's never boring! She loves caring for children and families, and has many teachers come in for care as well. An athlete herself, she enjoys working with athletes, helping them rehab from injuries, prevent future issues, and increase their performance levels.
Partnering With the Community
The Chiro Place believes in giving back to the community. They are currently partnered with the Memphis Dream Center (MDC), an affiliate of the Dream Center Network. The Dream Center here in Memphis was founded by The Life Church, and supports the community in various ways. They have an awesome feeding program, help kids prepare for school, offer literacy programs and advocacy services, and more. Anything you can imagine to help in the community, that's what they do, so we're pleased to be able to help.
We also do a patient of the month, with random prizes ranging from a gift basket, gift card, free cupping session, etc. to keep it interesting, and other different events as well. The patients love the competition! We also recently made a donation to a local volleyball team, and have supported a softball team in the past as well.
Book Today
Make your appointment today!

Chiropractor Bartlett TN | (901) 221-7173