Meet Dr. Jayda Williams, D.C.
Making an Impact Through Chiropractic Care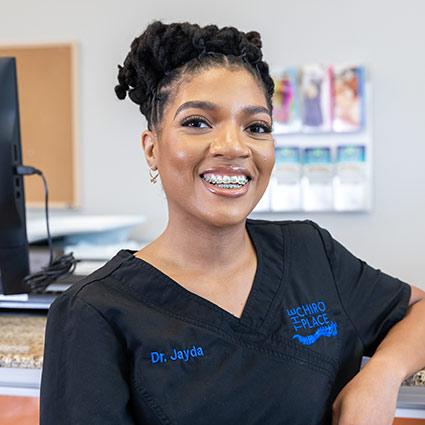 For Dr. Jayda Williams, it was always about health care. She originally planned to become an OB-GYN because she wanted to help pregnant women and babies, but she thought chiropractic care was only for back pain and car accidents. She discovered how far-reaching chiropractic care is while attending a leadership conference at Life University—and that's when everything changed.
Dr. Jayda was inspired by the vision of using natural health care to improve patients' overall wellness. After graduating from Alabama State University in 2016, she studied chiropractic care at Life University, finishing her degree in 2021.
Finding a Home in Greater Memphis
While working on her chiropractic degree, Dr. Jayda shadowed at The Chiro Place. She was amazed at Dr. Turner's ability to focus on her patients no matter what—even when the power went out. After that, Dr. Jayda knew she wanted to live in Greater Memphis and work with like-minded chiropractors who encouraged her to be her best so she could offer patients the very best care. The Chiro Place welcomed Dr. Jayda to join the team in 2021, and she's been having a blast doing hands-on patient care ever since.
Pregnancy and Infant Care
Dr. Jayda works with patients of all ages, genders, and backgrounds with a special focus on prenatal and pediatric care. As a mother of two, Dr. Jayda knows firsthand the difference chiropractic care makes for expecting moms. She began receiving regular chiropractic adjustments two years before her second pregnancy, leading to a far better experience than her first pregnancy.
Chiropractic care has made Dr. Jayda's dream of helping pregnant women and babies come true. It's even better than she imagined because she can continue working with them as young moms and children. She knows how much joy her own babies bring her, and that's why she's passionate about helping families thrive.
Book Today
We're here to help you start feeling better. Schedule an appointment today at our Midtown location.

Dr. Jayda Williams, D.C. | (901) 221-7173