Meet Dr. Lynsey Rector, D.C.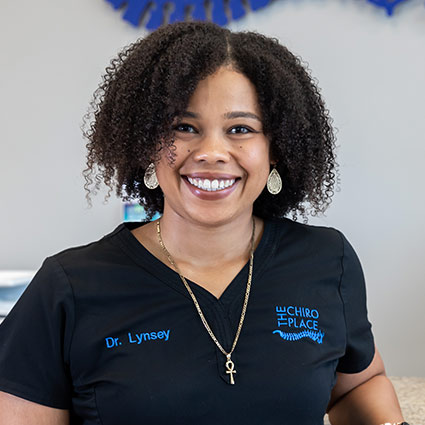 Dr. Lynsey got into chiropractic as a result of a sports injury. An athlete most of her life, she sustained a knee injury that required surgery while playing softball in college. Since her insurance wouldn't cover the cost, she sought holistic care with physical therapy and chiropractic. She always wanted to be a doctor, but Dr. Lynsey couldn't decide on a specialty.
After her injury, she started exploring more about physical therapy, but it wasn't as hands-on as she would have liked. She wanted to be involved with her patients to make sure they're improving and getting better.
A Change of Direction
One day, a representative from Palmer College of Chiropractic came to talk about chiropractic and how well it combines with physical therapy. Dr. Lynsey decided she could do both! She ended up going to Palmer, shadowing some chiropractors, and immediately fell in love with chiropractic.
After completing her studies at Edward Waters College in Jacksonville, FL, Dr. Lynsey continued her education at Palmer College in Florida. She received her Doctor of Chiropractic in March 2020, and is currently pursuing her Master's in Sports Rehabilitation and Exercise Science at Logan University.
Serving Minority Communities
While at Palmer, Dr. Lynsey was very active with ABCA, the American Black Chiropractic Association. Once she became involved with them, she knew treating minority populations was what she wanted to do, knowing how few minority chiropractors there are. That engaged her fire to go out into the community, to show them the benefits.
Many people just don't know much about chiropractic. Concerned about how many other students are out there that could be amazing, led her to meet Dr. Turner at the ABCA convention. She mentored Dr. Lynsey from that time on. She ended up doing her internship here, and never left.
In Her Spare Time
Since living in Memphis, Dr. Lynsey's love for food has grown, and she loves trying new restaurants on the weekend. Currently, she still plays softball within the community, and is in two different city leagues. She also enjoys working out.

Dr. Lynsey Rector, D.C. | (901) 221-7173